Just around the corner on Sunday, April 9th - Easter! Electric Boat Rentals has a weekend planned that's filled with fun, and we're excited to share it with you. If you're around Lido Marina Village, you may even catch a glimpse of the Easter Bunny after your cruise through Newport Harbor!
Celebrate Easter a little differently this year!
Why not try brunch in Newport Harbor after your morning festivities? Come out and visit us on the water with great food to make the most of this special holiday and enjoy the weather. There's tons of options for brunch in the harbor to commemorate family time and togetherness, and you could even bring it along on your boat ride! We recommend grabbing some bagels from Shirley's on your way to Lido, or if you're looking for something in the Village, why not try some delicious pastries from Rye Goods or Herst Coffee Roasters to enjoy on your ride?
This year, we're introducing an add-on package for Easter weekend catered towards the entire family.
For only $295 running April 7th-9th, our in-house balloon artists will be customizing garlands for your ride, complete with an Easter basket! The basket is full of candy, a special prize hidden inside (could it be a free boat ride? A coupon?), bunny ears, EBR brand stickers, and a surprise item from our store. If you're bringing any little ones along to experience the water, the Easter Bunny would be more than happy to provide coloring sheets too!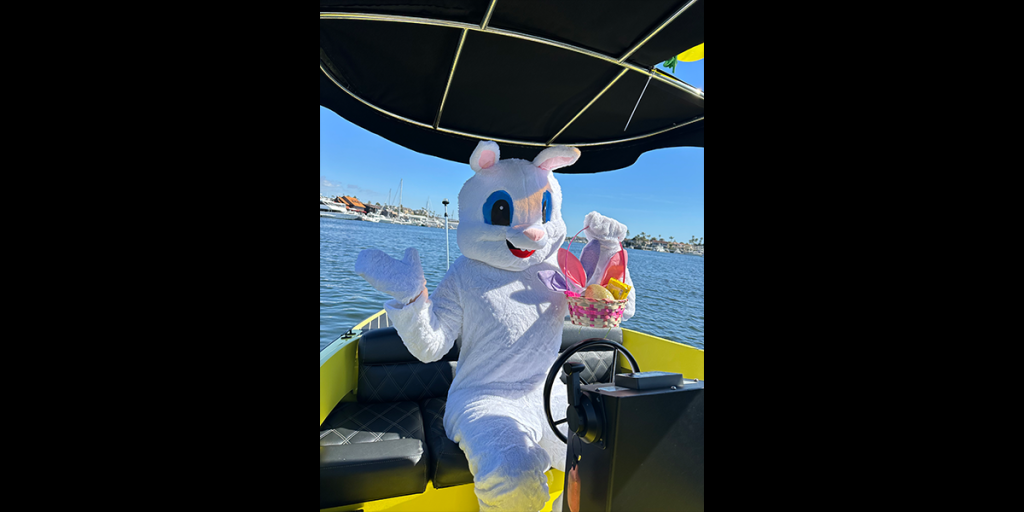 Lido Marina Village is no short of celebrations either
On Saturday, April 8th the Spring Celebration on Lido Deck will be running from 11 AM to 2 PM! Located right in-between LoveShackFancy and Nobu, you'll find:
Face painting
Balloon twisting artists
Gourmet cotton candy by Jolly Sheep
Easter egg decorating
Coloring sheets and painting
And so much more fun!
We recommend booking an Early Fish reservation at 10 AM to ensure you're getting the absolute best deal on Easter weekend. Call our office at (949) 612-8248 to book and make your Easter in 2023 one to remember!